Our mission is:
"To provide a safe, positive after school enrichment experience for youth in the community, offering a supportive environment with a wide variety of programs and activities.  Staff will mentor, nurture and encourage all youth to work towards their fullest potential and become valued members of our society."
The Attleboro Youth Center is an afterschool program for all Attleboro youth. Our goal is to provide a positive and enriching after school alternative for Attleboro youth, ages 8–18, who are enrolled in school full time. This afterschool program provides a range of activities for the youth under the supervision of Youth Advocates that encourage positive behavior.
The Youth Center is located at the Bartek Recreation Center at 81 Pine Street. The Youth Center is open October 1st thru mid-April. Hours are Monday – Thursday from 2:45pm – 5:00pm. The Center is also open on Friday evenings from 6:00pm – 9:00pm, December through March. Hours are subject to change during school vacation weeks but are generally 12pm-3pm.
Activities that are available include basketball, flag football, soccer, computer homework lab, computer games, video game room, foosball, ping pong, billiards, table games, TV lounge, occasional field trips and much more. Every youth that enters the program must sign and adhere to a Code of Conduct ensuring a fun, respectful and safe experience for all that participate.
For more information or to support the Attleboro Youth Center Fund please contact City of Attleboro Recreation Director Dennis Walsh at 774-203-1889 #5, or e-mail Dennis at .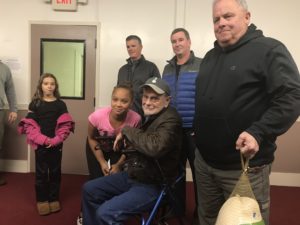 Twenty-five turkeys and grocery gift cards were given to Youth Center children and their families for the holidays by representatives from the Emmett Larkin Memorial Fund and the Jeff Burgess Fund.